Church News
His Eminence Archbishop Demetrios will be officiating on Holy Thursday for the Service of the Holy Passion. Please join us.
Thank you to all who joined us to dye Easter Eggs on Holy Thursday!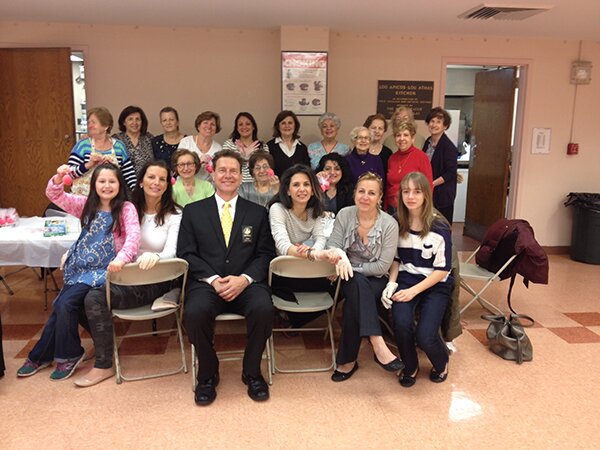 Save the Date for our Annual Philoptochos Dinner Dance at Terrace on the Park, Thursday May 1, 2014! Click here for more details.
Save the Date for our Annual Golf Outing on Thursday, June 12, 2014! Please click here for details and our entry form. For more information, please contact Bill Kakoullis via the Church Office.
APRIL 2014
Thursday, April 17th:
THE SERVICE OF THE HOLY PASSION 6:45pm
Friday, April 18th: HOLY FRIDAY
Royal Hours 8:30am
Descent from Cross 3:00pm
Trisagion for departed 6:30pm
THE LAMENTATIONS AND PROCESSION OF THE EPITAPHIOS
(CHURCH) 7:30pm, (SARANTAKOS HALL) 7:30pm
Saturday, April 19th: HOLY SATURDAY
* 1st Liturgy 6:00am (main sanctuary)
* 2nd Liturgy 7:00am (Sarantakos Hall)
* 3rd Liturgy 8:15am (main sanctuary)
(Holy Communion will be administered only at the appropriate time at each Liturgy)
PASCHA VIGIL 11:00pm
RESURRECTION 12:00 midnight
Sunday, April 20th: HOLY PASCHA
Resurrection Liturgy 12:30am
AGAPE SERVICE 10:30am
Tuesday, April 22nd: TUESDAY OF BRIGHT WEEK/ SS. Irene, Raphael, and Irene
Orthros: 7:30am
Divine Liturgy: 8:30am
Wednesday, April 23rd: WEDNESDAY OF BRIGHT WEEK/St. George the Great-Martyr
Orthros: 7:30am
Divine Liturgy: 8:30am
Friday, April 25th: FRIDAY OF BRIGHT WEEK /Zoodoho Peghee, St. Mark the Evangelist
Orthros: 7:30am
Divine Liturgy: 8:30am
Sunday, April 27th: SUNDAY OF SAINT THOMAS
Orthros: 7:30am
1st Liturgy: 8:45am
CS Liturgy 8:45am
2nd Liturgy 10:45am
Church School Classes