Church News
Our Philoptochos Annual Dinner Dance will be taking place on June 6th at Laterna.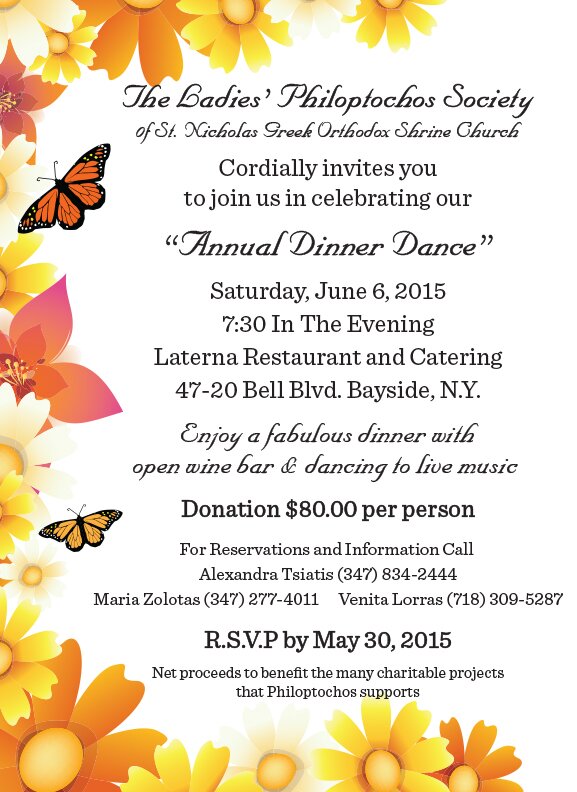 Registration for Greek Afternoon School is open! Click here to download this year's registration form and learn more. You can register from May 12th-June 26th from 10 AM to 4 PM.
Click to learn about our Byzantine Music Classes.
Join us for our Mommy and Me program! Learn more here.
Sunday, May 24: SUNDAY OF THE HOLY FATHERS - 1ST ECUMENICAL COUNCIL
Orthros: 7:30am
1st Divine Liturgy: 8:45am
Only One Liturgy, No Church School, Memorial Day Weekend
Monday, May 25: MEMORIAL DAY
Trisagion at Flushing Cemetary: 8:30am - Noon
Orthros: 7:30am
Divine Liturgy: 8:30am
Ninth Hour and Vespers of Ascension: 7:00pm
Saturday, May 30: SATURDAY OF THE SOULS
Orthros: 7:30am
Divine Liturgy: 8:30am
Sunday, May 31: PENTECOST SUNDAY
Orthros: 7:30am
1st Divine Liturgy: 8:45am
Only One Liturgy, No Church School
JUNE 2015
Monday, June 1: MONDAY OF THE HOLY SPIRIT
Orthros: 7:30am
Divine Liturgy: 8:30am